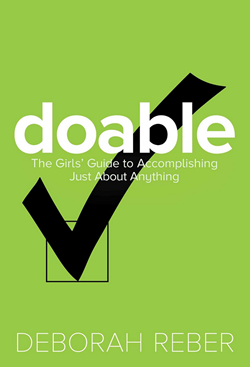 DOABLE: The Girls' Guide to Accomplishing Just About Anything
Teen girls have a lot on their plates. Overscheduled and overburdened, achieving goals can be a challenge when procrastination, crappy thinking, and other obstacles get in the way. In Doable, readers get to know themselves in a realistic way, leading them to blaze their own trail and turn a to-do list into concrete accomplishments, whatever those accomplishments may be.
In Doable: The Girls' Guide to Accomplishing Just About Anything, teen empowerment author, expert, and life coach Debbie Reber offers a simple, accessible approach to tackling any goal—big, small, mundane, or world-changing—by addressing these obstacles and offering a step-by-step method girls can easily adapt to whatever it is they're looking to do.
CHILL: Stress-Reducing Techniques for a More Balanced, Peaceful You
Your day starts at 6 a.m. and ends at midnight—if you're lucky. You keep up with all five hundred of your friends on Facebook. You practically invented the word "multitasking." Sound familiar? You're not alone. You are part of the most overscheduled, overprogrammed, and overwhelmed generation on the planet. Chill can help you manage it all.
Chill explains what happens to your body and mind when you're stressed; shows you how to de-stress through a variety of techniques including time management, visualization, exercise, and creative outlets; offers organizational tips to make every part of your life run more smoothly; helps you deal with some of the side effects of stress; and much more. Updated edition (2015)
IN THEIR SHOES: Extraordinary Women Describe Their Amazing Careers
So . . . what do you want to be when you grow up? Find out what you really want to know about your career choices: Will I wear Prada or Old Navy? Play with kids on the playground, or with bigwigs in the boardroom? Power lunch at the Ivy, or bag lunch at my desk? What kind of education do I need?
This book has the answers. Fifty "day in the life" profiles will inspire you, while a ton of sidebars, indexes, and helpful tips will get you started right away on finding the career that's right for you.  Actor Maura Tierney, Senator Barbara Boxer, and Scandal creator Shonda Rhimes all grace the pages of this fascinating book. Today's girls are in desperate need of honest, down-to-earth information. In Their Shoes arms them with the tools to make smart decisions about their future, while inspiring them to realize their dreams. Updated edition (2015)
Love, Love, Love: Language of Love
In Debbie's debut young adult novel, Janna is quickly adapting to life in Seattle as a high school exchange student from Hungary. Or at least Julian, the cute boy she met in a coffee shop, thinks she is. The truth is, he overheard Janna using a phony accent, and now she's stuck playing the part.
Will Julian want to be with the real Janna? Or will she discover that lies don't always translate to love?
Language of Love is part of a 2-novel collection, published under the title Love, Love, Love.
Louder Than Words (Teen-Authored Memoir Series)
Debbie created and edited the first-ever series of teen-authored memoirs, written by teens for teens, Louder Than Words. This breakthrough series gives talented teen writers a voice and an opportunity to share their experiences and unique stories in a powerful, authentic way.
As told through compelling prose, poetry, and journal entries, Louder Than Words memoirs not only acknowledge and celebrate the teen experience—they empower girls everywhere and are sure to spark a new generation of writers.
RUN FOR YOUR LIFE: A Book for Beginning Women Runners
Run for Your Life gives you the lowdown on what you need to get moving—from your first trot down the block, to simple training programs, to racing and cross-training. Both a great reference and a powerful motivational tool, Run For Your Life provides advice that will get readers started in a sport that benefits both body and mind.